Description
This Premium WordPress Directory Theme is ideal for a range of listings related websites. It uses our BePro Listings plugin to facilitate all of the listing search and layout features. This theme showcases what's possible with WordPress and BePro Listings.
Customize the layout to fit your specific needs. The theme comes with several, page templates, sidebars, widgets, and other features allowing you to customize the design to fit your specific brand and goals. Colors, sections, and images can typically be changed or moved altogether
BePro Listings provides all of the listing management including front end uploads, google maps, search capabilities, and more. With a mobile-friendly approach using bootstrap CSS, this versatile theme is suitable for many applications.
REQUIREMENTS
WordPress 5.0
BePro Listings 2.0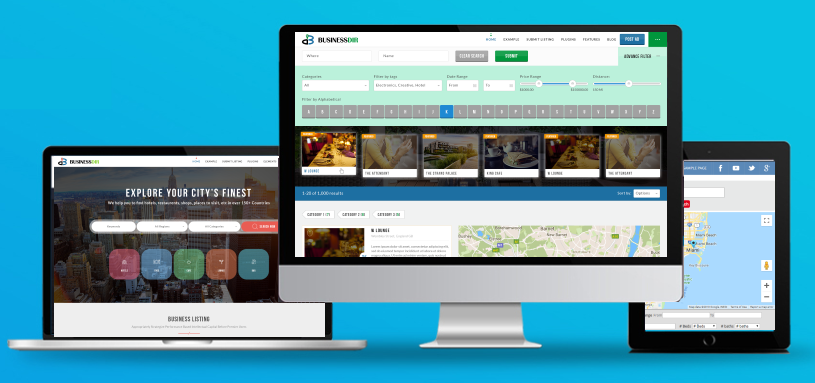 Bootstrap 4 (mobile friendly)
Works with WordPress 5.0+
Supports page builders like Gutenberg
Integrated with BePro Listings
2 Home Page templates
3 Search Page templates
1 Contact Us Page template
1 About Us Page template
Right Sidebar, Left Sidebar, and Full Width templates
Custom Fonts, Background, & Colors
DETAILS
This premium WordPress theme was designed to showcase whats possible with the BePro Listings plugin. We created a custom design which incorporated WordPress features as well as the BePro Listings plugin. In some cases we utilize rare WordPress features like the Category Images feature. We also utilize rare BePro Listings features like the ability to see the number of search results on the search page
Since we created BePro Listings, we have been working on various themes. This one took the longest to create and has the highest degree of thought put into it. We have listened to our customers and came up with a premium theme that they can use to convert customer and keep visitors engaged
As with all Premium Themes, you can customize the header, footer and other look/feel features. Change the font type, colors, logos, etc to fit the brand of your business. In addition, we offer custom templates to increase the engagement of your users and showcase the capabilities of BePro Listings. To edit these settings, visit the Appearance-> Customize admin page
ADD ONS
Since this is built on the popular BePro Listings Plugin, there are tons of ways to expand this theme. Please note that the addons are also featured in the demo. Features like, the sliders, map icons, video uploads, etc are not included. Once activated they automatically work with the theme and usually come with configurable options. Consider checking out a few of our addons if interested in extra features:
CONCLUSION
If you are looking for a premium WordPress theme to feature business or other directory related listings, consider this BePro Listings capable theme. With all of the features you expect to see in a WordPress theme, you have the flexibility needed to customize the theme to fit your specific needs. With the power of BePro Listings, you know there is stability and growth powering the platform. Purchase this premium wp theme today.
Date:
BePro Business Directory
was last modified:
May 7th, 2020
by