In 2021 our Canadian development team launched the beta version of FolioProjects, a project portfolio management SaaS. We have now integrated FolioProjects with the ChatGPT artificial intelligence (AI) platform. Today, you can utilize the power of AI to predict the success of your project, assess risk, and recommend tasks that will increase the likelihood of success.
Welcome to the future. If you are struggling to wrap your mind around it, that's ok because this is a world premiere. In this article, we will take a technical perspective on our integration and the future of our development with the platform. We will introduce you to, FolioProjects, ChatGPT, and our integration between the two.
If you prefer reading a business outlook for the AI integration, our parent company Beyond Programs wrote an article. Also, we have created a video
FolioProjects
The goal of FolioProjects is to share projects and measure their performance. Towards this goal, this ERP solution is packed full of features.
With FolioProjects, you can manage people, applications, and resources like smart equipment through a project management interface. Specify tasks, members, and other details of projects. Then monitor and broadcast their performance, using our proprietary HueFlux rating system.
Projects can be grouped into portfolios, making the monitoring of related projects easier. Share individual projects or entire portfolios of projects with stakeholders
ChatGPT
Microsoft invested billions into OpenAI and their artificial intelligence (AI) platform called ChatGPT. The internet immediately exploded with a buzz on all the major publications. The AI platform accepts plain English text and provides human-like responses quickly. In case you are not aware, this platform is slated as the next big evolution of the internet, with the capability of dethroning google search.
The ChatGPT platform was trained on data from 2021, so it's not perfect. It can make mistakes and be very wrong with its suggestions. However, many people are impressed with the technology, aiding its rise to prominence.
Major utilization of the platform like code generation and image creation has been limited to the OpenAI company itself so far. However, there is an API available that has allowed companies like us to test monetized implementations of their technology. We are not aware of stable solutions built on the API, since it is very new as of the date of this article.
FolioProjects and ChatGPT Integration
The integration is optional for FolioProjects users. While editing a project, you can opt into it being processed by ChatGPT. Each project for free users gets 2 attempts at having ChatGPT access their project. Paid users have unlimited use of the feature and are billed accordingly.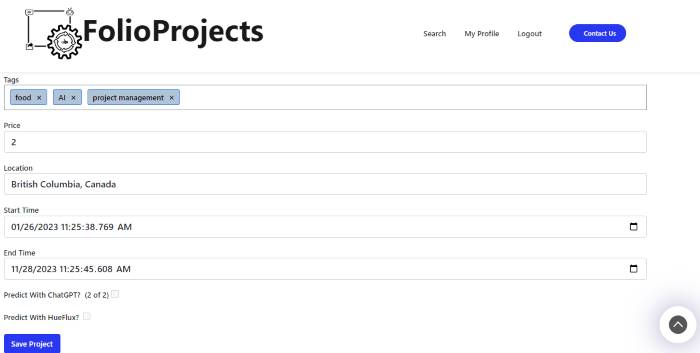 Once the project is accessed by ChatGPT, you will notice the following
Percentage probability of success
Tasks that can increase the possibility of success
Assess potential risk
There were some difficulties with the integration. For one, the recent success of the ChatGPT platform has caused some outages for their API. We have had to add sections to the code that test if the API is simply failing to respond, so we can pause calling it programmatically.
Their API responds in JSON which works for us. If your project is opted in, we send ChatGPT various information about your project and store the reply. You and your project stakeholders can then review the success prediction and suggestions.
Conclusion
This is a world premiere. Now, you can utilize the power of AI, to help you plan and manage projects. We encourage governments, large corporations, and gig economy workers to test out FolioProjects today. Your feedback is appreciated and would help us to improve the platform.
Today, some companies are trying to block AI. Others are trying to build the AI solution everyone will use. Our team is focused on leveraging artificial intelligence to help humans, and we have no bias as to whose technology provides this need. We will continue to further integrate with ChatGPT. We also intend to evaluate all other major AI providers going forward and will continue the development of our in-house project performance measuring system, HueFlux.
Date:
ChatGPT integration with our FolioProjects project management platform
was last modified:
March 16th, 2023
by