If you would like to create your own classifieds website, WordPress is a great free solution to consider. This blogging platform provides lots of free solutions in the form of plugins and themes which are provided by the coder community. This article describes in detail, how you can use the BePro Listings plugin to add Classified features to WordPress. All elements required to create the resulting website are 100% FREE
Spoiler alert, not only is the product free, it easy easily setup within minutes. So that leaves a very important question that you might not have asked yourself yet, what do i do after I figure out the website bit. Don't worry, we have answers for that too
The Kijiji Example
Kijiji.ca is one of the biggest classifieds websites in Canada. For copyright reasons, we cannot copy or clone them exactly but we can replicate the well-known characteristics of a good classifieds platform
Search by Location using Google Maps or Mapbox
Search by Category including highlighted featured listings
Search by item name
Paid Featured Listings with PayPal for FREE or get others as paid addons like 2Checkout
User submissions with photo attachments
Email notifications
If we missed anything, let us know in the comments below. For the above-listed items, all can be deployed on a WordPress website for FREE using BePro Listings. The plugin won't serve ads on your website. The plugin won't stop working after a period of time. Its been 100% FREE since 2012 and will always be. If you like the platform, there are paid solutions for extending its functionality and design. Here are a few demos
WordPress Blogging Platform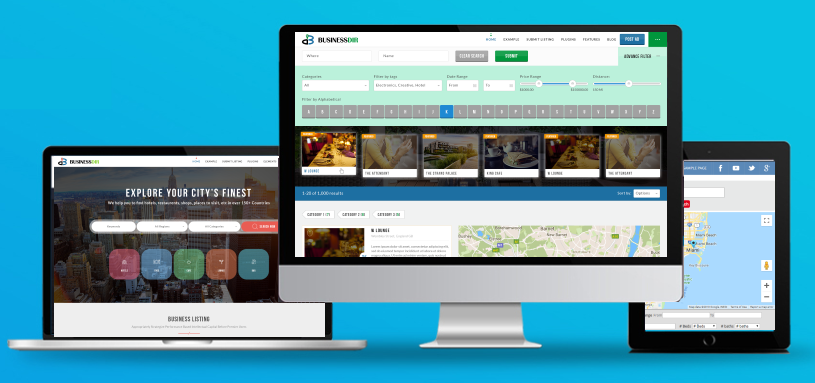 This blogging solution has evolved over the years thanks to its community. Its design allows its extensions to far exceeded the original goal of this platform. If you have the money, a purpose-built solution will always be the best way to go. However, for a reported 20%+ of internet websites, WordPress specifically is what they are running
Google won't rank you if you don't have content. This makes blogging a central aspect of any successful Search Engine Optimization (SEO) strategy. In that case, starting with any blogging platform, Drupal, Modx, WordPress, etc is a good idea.
BePro Listings Classifieds Plugin
This plugin extends WordPress by providing the important classifieds features that the platform lacks. Through an easy installation wizard, you select the features that are important to your classifieds website like:
What are you listing?
Show cost options?
Show location options?
Show contact options?
Which pages should be created (submission, my account, etc)
The list goes on; however, the installation steps can be completed by a novice within minutes. Once completed, the plugin will deploy what's needed across your website. If you want, you can configure WordPress to hand over priority to the plugin, by making its search page your home page. Now you're running a classifieds website which happens to have blog capabilities too
What Happens Next?
That part is up to you. Why do you need a classifieds website? How do you plan on driving traffic to your platform? Consider taking this WordPress Monetization course to help figure out how to run the business of a classifieds website. It's great that BePro Listings will get you up and running within minutes. The thing you thought would be an obstacle isn't, so um… what are you going to do about the business aspect of running a business?
This tutorial series walks you through how the BePro Listings team are actively using the platform to generate revenue for themselves and customers of the plugin alike. You can subscribe month to month to review this and other helping tutorial series that are published from time to time. If you prefer to have the team set up everything, simply add the installation option to your cart during checkout.
Conclusion
In 2019 going into 2020, creating a classifieds website like kijiji.ca is easy. So easy in fact that you can be up and running within minutes. That leaves the very difficult task of growing a business to take care of. How will you get traffic to your website? Once people are using your classifieds website, how do you make money? I guess with this article you get your answer but you leave with more questions than you came with.
When you are ready to grow your website, we have several paid addons for you to consider. Customize the forms and content featured on your directory. Add review, icons, galleries, and other features to enhance the layout. Don't know where to start? Then consider purchasing our BePro Business Directory WordPress theme. It comes packed with everything you need to get started.
Date:
Create a Classifieds Website like Kijiji for Free with WordPress
was last modified:
January 12th, 2021
by