Description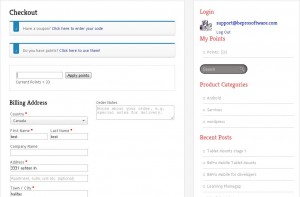 Are you interested in setting up a woocommerce rewards program (loyalty points, gamification, etc) on your wordpress website? Thanks to the suggestions from our developer community, we combined cubepoints with woocommerce to create WooCube Pro. You can still get the base version of woocube, if you want to use it as a standard currency or payment gateway. However, if you want to offer partial payments, you must use WooCube Pro. It now comes with cubepoints and woocommerce individually focused features.

NOT SUPPORTED
This product was based on creating a bridge from woocommerce to a plugin known as cubepoints. Unfortunately, cubepoints is no longer supported by the people who developed it. Instead, we recommend using BePro Points and BePro Points Woocommerce. BePro Points is a points plugin we created to replace cubepoints. The woocommerce addon creates a bridge between BePro Points and Woocommerce. The new combination deliveres everything promised on this page. This page is still up for seo reasons.
INSTALLATION
This plugin is installed like any plugin from wordpress.org. You can upload it via the plugins menu or via ftp to the plugins folder. It will then create the necessary options within cubepoints and woocommerce. To be clear, do not install this plugin like a cubepoints module (i.e. in the modules folder).
WHATS THE DIFFERENCE?
Glad you asked, instead of adding another payment gateway (WooCube), with WooCube Pro, the points work more like coupons. You can use some, or all of your points, towards reducing the cost of the product. You can do this all the way to the cost of $0. In fact, since version 1.0.6, you set how much the cost can be reduced by
So in reality, this does what the standard WooCube does i.e. Allowing the use of cubepoints towards woocommerce purchases. However, this adds the extra feature of allowing partial reductions to the price. This is the true essence of loyalty points. This is a plugin solution for wordpress gamification
HOW DOES IT WORK?
This plugin links two 100% free plugins together Cubepoints and Woocommerce. CubePoints is a point management system for sites running on WordPress. Users can earn virtual credits (aka points) on your website by, posting comments or reviews, creating posts, making a purchase, or even something simple like logging in. You can then showcase users with the highest points or point activity in user profiles.
Woocommerce is a complete eCommerce system. Depending on who you ask, its the #1 eCommerce system for wordpress.. It facilitates the management of products including, details, categories, and prices. It helps with everything from payments to shipping the items. With this system you can sell both tangible and digital goods
When combined, WooCube Pro facilitates the use of points from the cubepoints plugin, to be used for the purchase of products through the woocommerce plugin. This is true gamification and rewards in action. You reward users for doing various activities then allow them to redeem those rewards for products. Everyone wins with a system like this
POWERFUL CUSTOMIZATIONS
WooCube Pro comes with lots of configurable features to control exactly how cubepoints interacts with woocommerce. Remember, you get all the features of cubepoints, so you can already control the currency sign, what its called (points, tokens) etc. WooCube adds to those features.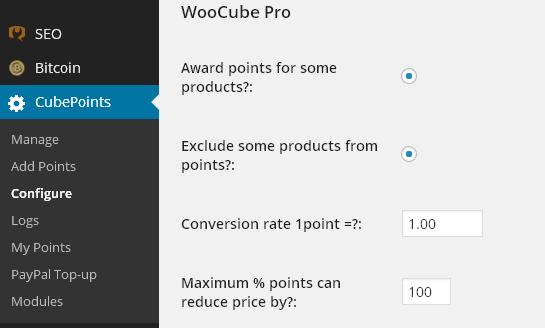 WooCube Pro uses the Cubepoints configuration menu page. There you will find 4 options including:
Award points for some products? – This checkbox option adds a textbox to each woocommerce product edit page. There to you enter an amount of points that that particular product will give the user if they purchase it
Exclude some products from points? – This checkbox option adds a checkbox to each woocommerce product edit page. There you can select whether that product is excluded from the use of cubepoints
Conversion rate 1point =? – You can set any conversion rate between the points and the currency you have active. A value of 2 would mean that 1 cubepoint = $2. A value of .5 would mean that 1 cubepoint is worth $.50
Maximum % points can reduce price by? – Enter a percentage between 0 and 100. The user will not be able to use points which allow them to reduce the price beyond this figure.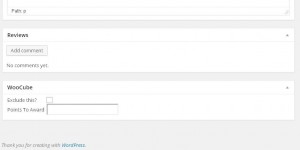 Don't forget there are options on the wordpress edit product page also. You want to be able to exclude certain products and/or designate exactly what the customer will get for purchasing that product. You turn on this capability in the cubepoints configuration menu section. These options are available on every woocommerce product page.
THE LOYALTY AND REWARDS BUSINESS
There are many major companies which have reward and loyalty programs. Companies like american express are famous for this. If the customer does not have enough points for the product, they may still want to use what points they do have, towards reducing the product price
WooCube Pro allows this partial reduction of price. The user gets to decide how many of their points, that they want to use towards the purchase. So, unlike standard WooCube, your customer can still purchase the product, even if they don't have enough points. If the user changes their mind before checkout, they can cancel the use of the points.
Also, with WooCube Pro, you facilitate the opportunity to get real cash as part of the purchase. Since WooCube Pro is not a payment gateway, it allows you to use a standard gateway like paypal in conjunction with the points. This means that the price is reduced by the points; However, the customer completes the purchase (remaining cost) with a standard gateway (e.g. paypal/scrill/etc). 

CURRENT FEATURES
WooCube Itself brings the following features:
Exclude products from point deductions
Maximum percentage of cost which points can reduce price by
Credit points for purchasing a product
Currency conversion rates
Allows the use of points for products
Shortcode to show user their point logs [ show_points_to_user ]
Will allow up to 3 decimal places e.g. ".001"
When it comes to ecommerce features from woocommerce, we can't really list that many things here. So here are a few major features:
Listings products
Various payment gateway options (paypal, skrill, authorize.net)
Various shipping options (usps, ups, fedex)
Ability to sell physical and digital products
Ability to charge tax calculations
Tons of addons and documentation
NOTE
There are a few things to note with this combination:
It is possible but not recommended to use WooCube Pro with coupons. WooCube does not check for coupons, so theoretically, someone could combine them to get a price of $0
Cubepoints credits are always integers. So when they undergo conversion and max % price restriction, the customer's points are always rounded up. For example, a user with 5 points, trying to purchase a product costing $5 on a 1-1 conversion and a 50% maximum deduction, the price is reduced to 2.50 and the user is charged 3 points
Conversion rate goes up to 3 decimal points, so you can have something like 1 point = .001 dollars
CONCLUSION
What are you waiting for? This is the ideal setup for a true rewards system using Woocommerce and Cubepoints. With this setup, your users can use some or all of their points towards purchases. If you want to implement a true rewards program, there is no other solution available for wordpress.
As with all of our creations, you can count on our BePro Software Team to create robust and trustworthy code.  If you would like to see improvements to this or any of our products, reach out in our forums
Date:
WooCube Pro
was last modified:
February 15th, 2019
by