DOCUMENTATION
NOTE: WooCube Pro is no longer supported. Checkout BePro Points for a great alternative!
This page is dedicated to the documentation of WooCube Pro. You will find valuable insight and details regarding the plugin on this page.
[catlist id=124 numberposts=50]
REQUIREMENTS
Tested with woocoomerce versions 2.0.20 and 2.1.2
Cubepoints version 1.2.3
Tested with wordpress versions 3.7, 3.7.1 and 3.8.1
WHATS THE DIFFERENCE?
The base WooCube plugin is simply a woocommerce payment gateway and hence doesn't need extensive documentation. You install it like any other plugin. Then configure it like any other woocommerce payment gateway.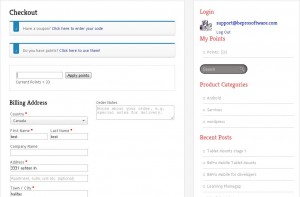 WooCube Pro is a must have for anyone running the Cubepoints plugin. Now you can allow users to purchase points through woocoomerce
For woocommerce users, you now have the opportunity facilitate a rewards and loyalty program (gamification) where customers use points during checkout. You dictate how they make points and how they can spend them.
HOW DOES IT WORK?
This plugin links two 100% free plugins together Cubepoints and Woocommerce. CubePoints is a point management system for sites running on WordPress. Users can earn virtual credits on your website by posting comments, creating posts, or even by logging in each day. You can then showcase users with the highest points or point activity in user profiles.
Woocommerce is a complete eCommerce system. It facilitates the management of products includeing, details, categories, and prices. It helps with everything from payments to shipping the items. With this system you can sell both tangible and digital goods
When combined, WooCube Pro facilitates the use of points from the cubepoints plugin, to be used for the purchase of products through the woocommerce plugin. This is true gamification and rewards in action. You reward users for doing various activities then allow them to redeem those rewards for products. Everyone wins with a system like this
CURRENT FEATURES
This plugin allows you to utilize all of the features of cubepoints and woocommerce.  WooCube introduces the following new features:
Exclude products from point deductions
Maximum percentage of cost which points can reduce price by
Credit points for purchasing a product
Currency conversion rates
Allows the use of points for products
Shortcode to show user their point logs [ show_points_to_user ]
THE FUTURE
Anyone that download's WooCube Pro gets free updates up to 90 days after purchase. You can anticipate new features like:
Better design
Application before or after taxes
Email / User Restrictions
Rewards restricted to specific gateways
CONCLUSION
What are you waiting for? This is the ideal setup for a true rewards system using Woocommerce and Cubepoints. With this setup, your users can use some or all of their points towards purchases. If you want to implement a true rewards program, there is no other solution available for wordpress.
As with all of our creations, you can count on our BePro Software team to create robust and trustworthy code.  If you would like to see improvements to this or any of our products, reach out in our forums
Date:
WooCube Pro
was last modified:
March 16th, 2015
by