This is a flexible template useful for all BePro Listings configurations. You can feature the map or the listings. Note that this template also has the sidebar which you can switch between left, right, and none aka full width template.
Setup
This template is the easiest to setup. It utilizes the BePro Listings configurations and showcases the map, listings, etc as you would expect if you had just dropped the shortcodes onto the page. In this case, they are nicely designed and easy to navigate.
Sections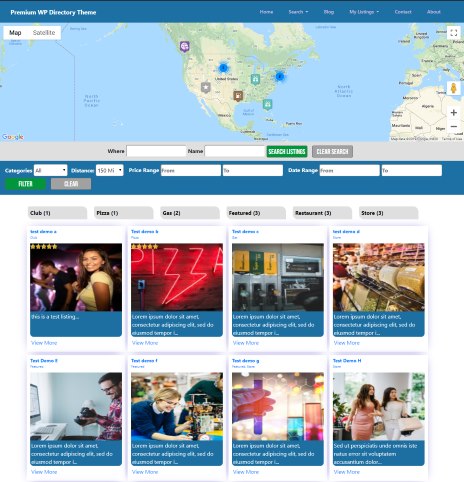 There are a few sections visible on this template. No sections are hidden:
Map
Search
Advanced Search
Search Result Listings
Pagination
Sidebar
As with all search templates, you are able to specify which listings to showcase. So for example, if you are using our Form Builder addon and only want to showcase listings from a specific form, you will be able to do that with this template
You can put whatever you want in the sidebar. That's the brilliance of this section. You can choose to have your advanced search filter here, somewhere else in the theme, or not to showcase an advanced search filter at all. Show ads or whatever else you want in your sidebar.
Conclusion
This is a great template for most BePro Listings users. Regardless of what type of listings website you are running, this template can accommodate your needs. Note that once you have customized this template, colors, sections, sidebar locations, etc, it can easily look different than the demos we provide.