We spent a lot of time designing this page to take full advantage of BePro Listings. We considered mobile users, usability, monetization options, addons, and general flexibility. This page requires that the geographical features are turned on and hence is only useful for websites where this feature is needed.
Design Considerations
Let's start with the obvious, we wanted a page that was easy to navigate and search listings. We believe we achieved that goal and here is how we went about doing it.
That's a lot of stuff to jam onto one page. So our next step was to consider what features most users were interested in and decided to give those the most visibility. So you will notice that the advanced search is hidden until the user digs for it. This is a popular design seen on the world's biggest websites.
Speaking of big websites, we took a lot of our design principles from Google. We will reference several design aspects as they relate to components millions of people use on this platform daily. Hiding the advanced search options is an example of a principle taken from that companies lead
You will also notice the featured section can be removed via configuration. If you do decide to use it, notice that there is an add listing button available to entice the user to submit a featured listing. If you have monetized this option, then this is a great way to upsell featured listings. Notice that if this area is full of listings, it will always show half a listing at the end. This is something you see on Google often, it shows users that more listings exists and encourages them to scroll to see more.
Sections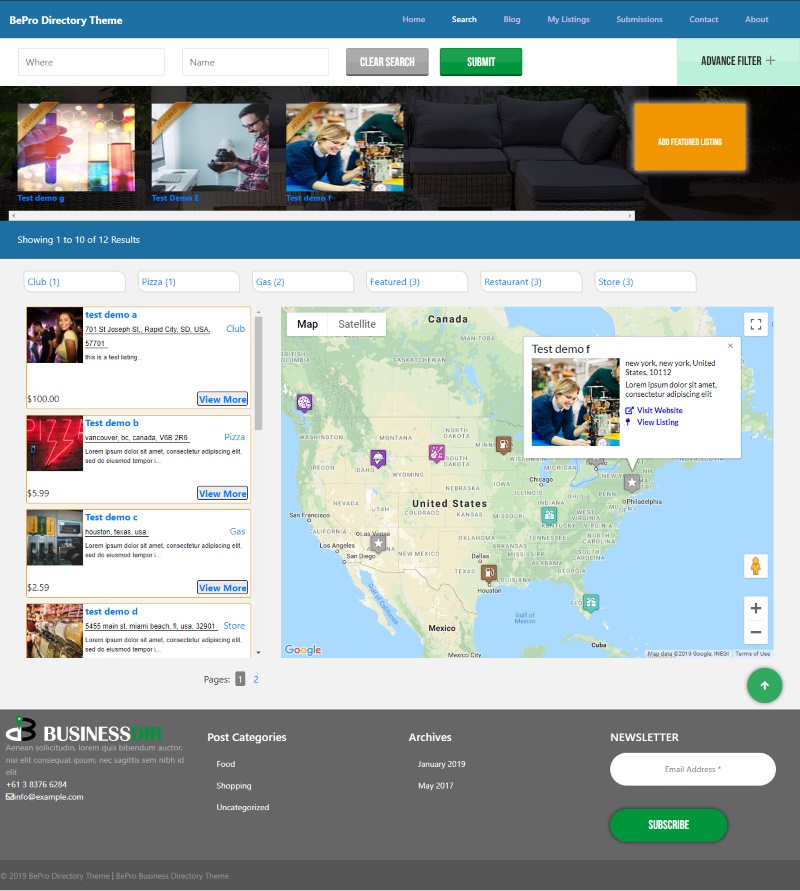 We started with a blank page with all of the features we wanted to showcase. These included
Search
Advanced search
Categories
Number of Listings
Order By
Listing results
Google map results
Pagination
We would also like to highlight that the map disappears on mobile screens. We wanted to reduce the amount of time a user has to scroll on mobile to get to all of the information. They can easily toggle between the map and result listings. Note that the search result listings are also in a scroll area that again reduces the scrolling area needed by the user
Conclusion
For those running a directory with Google Map features, this is the ideal template to offer end users for searching your listings. Various considerations went into building this template including, monetization, usability, features, and more. Our designers spent as much time on this page as the home page. It utilizes design principles seen in the largest websites on the planet so we think it would be great for your website.
Date:
Search Page 1
was last modified:
July 1st, 2019
by