This is another flexible home page template. We anticipate you will use this more like a landing page or a home page heavily focused on the sales funnel. This utilizes built in BePro Listings features as well as features unique to the theme, to help you to convey a marketing message.
Sections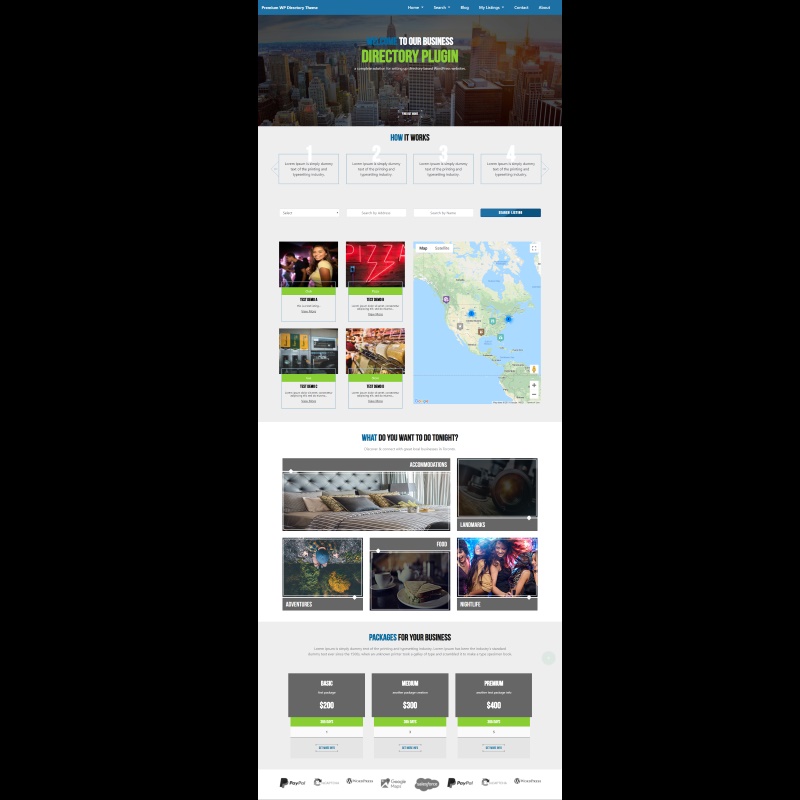 This page has a few configurable sections which which you can toggle on and off. Available sections include
Banner
How it Works
Search
Result Listings
Google Maps Listings
Blog Categories
Listing Packages
Logos
Each section can be turned on and off and some aspects can be configured. The content in the banner for example is easily configurable to fit your marketing needs
The logos section at the bottom is another chance to give other members visibility in your theme. Not only is it a great up-sell for featured listings or other promotions, it encourages your new customers to be part of your community. It will continue to scroll so that all logos that you choose to be in this location on your website, eventually get visibility.
Unique Features
The "How it Works" section is unique to this theme. It allows you to create a few steps explaining whatever marketing message you would like to relay to users. We recommend showing users the steps necessary to post listings in your website. This is your chance to monetize your blog. You can manage this feature via the admin area
Note the payment packages at the bottom. These are only available if you have payment features activated within BePro Listings and have setup packages. Remember, BePro Listings also offers you the chance to charge per category instead. This feature only works with the packages for now.
Conclusion
This is a great template that can be used by anyone when configured. However, we designed it for those customers who want to upsell joining their directory. This layout makes it easy to explain the benefits of your directory then gets them into the purchasing funnel.