This is the page featured in the theme preview. This page was created with various sections which you can toggle as needed. It will fit most needs and allows for various customization's.
Sections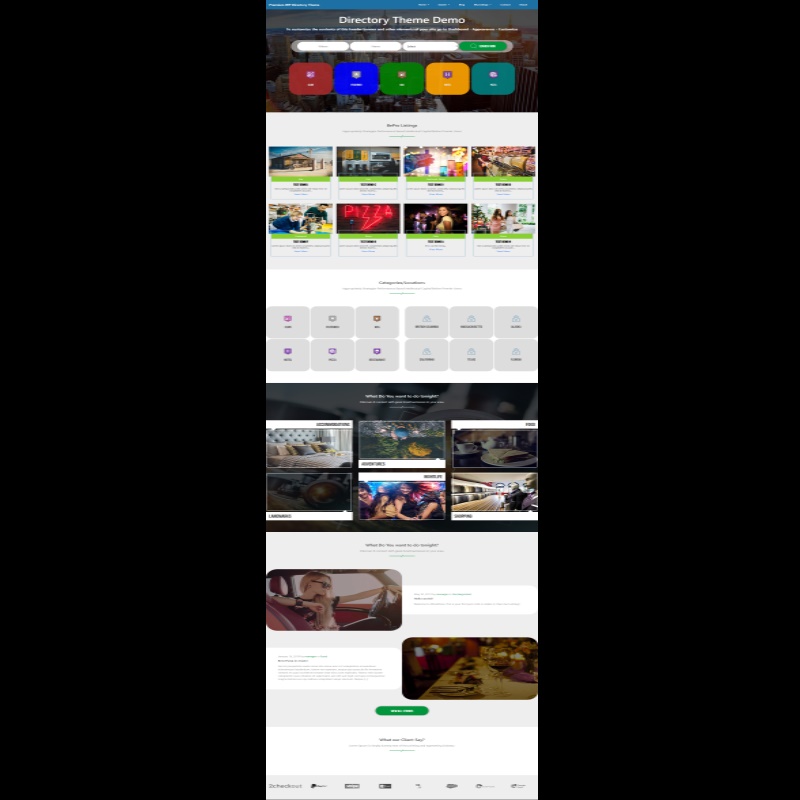 You are able to remove all sections except for the search features at the top. Available sections and configurations include
Banner/Search
Listings
Listing Categories & Search
Post Categories
Posts
Feedback
Logos
Each section allows you to showcase various pieces of content from your blog. It automatically showcases the latest of each content type to keep your home page fresh. Some aspects can be configured to show something specific like the listings section, where you can specify which listings to show. This is a great way to provide added benefits for featured listings, by giving them a priority position on your website
Addons/Extensions
This theme has 2 requirements, BePro Listings and WordPress. Both are free to download and use. Nothing more is needed to use this theme. For those interested in unlocking further features, our BePro Business Directory also integrates with a few of our BePro Listings Addons
The Search addon is feature packed. However when it comes to the home page template, it offers users an opportunity to see locations visually and click on them to initiate a search in that region. We have found that to be a very popular way that users navigate directories. The brilliance of the search addon is that it can generate locations for you or you can create them yourself
The perks of the icons addon can be seen in the banner at the top of the page. There you will see several icons below the search bar. These are selected per category. We have over 100 custom icons for you to pick from including the entire english and spanish alphabets so we are sure you will find a relevant icon in our set.
Both addons have benefits beyond the home page which you should seriously consider when making those purchases. This page is about the home page template so we have focused on the effects these plugins have on these pages. They are automatically integrated into the theme if they are activated and setup. The categories/search section will not be available without the search addon.
Unique Features
You will noticed that this template offers the "Order By" option and "Number of listings" display. This is not a shortcode offered by BePro Listings. Rather, this is the theme tapping into capabilities of the plugin that have been traditionally are only exposed to developers. We chose this template to showcase the added power of BePro Listings that not as easy to initially see.
These components work seamlessly with the search and pagination features. You can create these features on other themes; however, that will take some coding skills.
Conclusion
This is a great home page template which can help you to quickly utilize several features from BePro Listings and its addons. There are lots of ways to customize this template so its very likely that your finished product looks a lot different to our demo pages.