With BePro Listings, creating a website for your food truck is simple. You can list all locations your food truck will be and users can view this information on google maps. They can search for locations that are close to them and so much more.
LIST YOUR LOCATIONS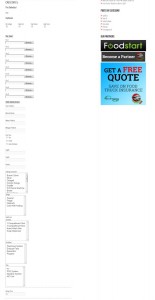 Let your customers know where you are going to be. With our listing management features, you can create and delete locations quickly. Each location can be an address or coordinates. Once inputted, users can view the information via google maps and listing summaries.
The information is categorized and searchable. BePro Listings features an engaging and useful ajax search experience. Users are able to search and filter by various pieces of content like cost, date, and so much more. Users can easily find the listings that are most relevant to them.
IMAGES, DESCRIPTIONS & OTHER DETAILS
Each listing can have its own gallery. You also options for explaining details about what you are offering. Customers want to know what you have to offer and BePro listings helps you to convey your message. The options are endless.
Of course, your customers will have lots of feedback for you and we have thought of that too. BePro Listings allows users to comment on each listing, helping you to understand which locations are working well.
When you are ready to expand, we have lots of addon features to help make your food truck website unique. Consider features like
There are over 18 addons for you to choose from. No matter what your need, we probably have a solution ready and waiting for you to consider
HOW IT WORKS
BePro Listings is a plugin which works on the wordpress cms. With wordpress, you can manage users, content, and other features native to blogs. BePro Listings adds listing specific features to wordpress.
The result is a search and listings interface which features your food truck information on your own website. The flexible architecture of the plugin allows you to setup the layout that's most advantageous to you and your customers. You can view a demo on ww.bycater.ca
CONCLUSION
If you are creating a food truck website, then you should consider using BePro Listings on the wordpress cms. This foundation has all of the features you could need. Wherever your truck goes, BePro Listings can help you to relay the information to the masses on your own website.
Date:
Create a food truck website
was last modified:
September 20th, 2014
by